To view the FREE British Overseas Births, Marriages and Deaths General Register Office (GRO) Indexes, register on the website and login.
Select Search on the menu then select the FREE records tab. Then select a dataset you wish to browse.
On the Search page; Select the Data Type, Events and Years from the pull down menus.
The records are arranged in alphabetical order, select a letter for the surname that you are searching and select view to view the image of the record.
Remember the name you are searching may appear between the First and Last surname on the page, view the image to be certain. Check entries added at a later date by viewing the Previous and Next image.
PLEASE READ Further information on How to Browse Overseas Records
British Overseas Records FREE

Record
Year
Description

Regimental Registers - records of births/baptisms, marriages and deaths of British soldiers and their families

1761-1924

These records include events which may have taken place in the UK, Ireland and overseas.

Chaplains returns of baptisms, marriages and burials

1761-1880

These records were compiled by regimental chaplains and maybe duplicated within the regimental records mentioned above.

Ionian Islands records of births/baptisms, marriages and deaths of civilians, soldiers and their families stationed on Corfu

1818-1864

These records relate to the garrison stationed on the islands of Corfu while under British protection after a short period of rule by France.

Consular births, marriages and deaths registered by British Consuls

1849-1994

These records relate to registrations made by the British Consul in the country concerned. It should be noted that registration in respect of British citizens or subjects has never been compulsory and therefore a record of the event may not be held.

Army births, marriages and deaths

1881-1965

Records relating to members of the British Army or their families where the event has taken place outside of the United Kingdom.

War Deaths



Includes Boer War (Army) World War 1 (Army/Navy/ some Royal Air Force - for those men in the Royal Flying Corp they were registered by the Army) World War 2 (Army/Navy/Royal Air Force)

1881-1965


1899-1902


Please note the information on the records held will only contain name, rank, service number, date (or presumed date) of death and place of death (often just recorded as the theatre of war e.g. 'France') the cause of death will normally be recorded on any certificate as 'killed in action', 'died of wounds' or 'on war service'. More information may be obtained from either the service record of the individual or their memorial.

Air births and deaths

1947-1965

Births and deaths which have taken place on British registered aircraft.

Births and deaths registered by British High Commissions

1947-1965

Events which have been registered by the British authorities in a Commonwealth country.

Notes

To browse these records go Search page and select the FREE tab

Browseable – browse record by year, letter, page and image
A typical example of an Overseas Index Image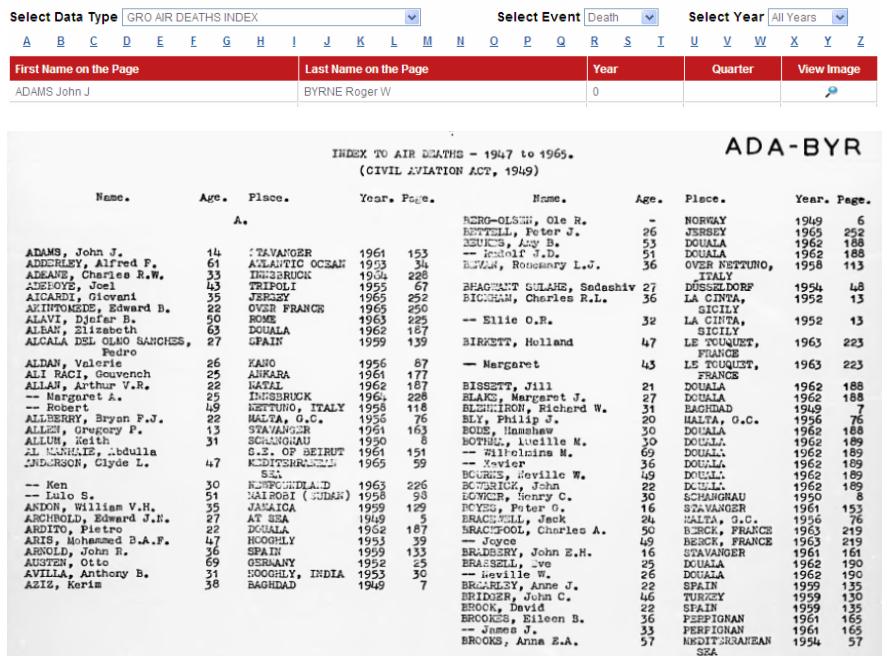 Index to Consular Marriages 1961-1965 AAL – ARC. Note the handwritten numbers which correspond with the following image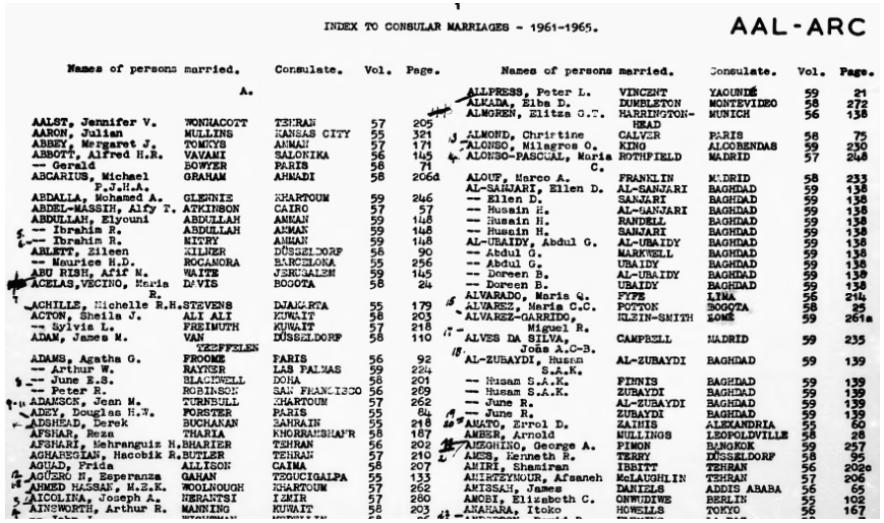 Index to Consular Marriages 1961-1965 AAL – ARC
The "Interlinings" image shows the order of the handwritten entries from the previous image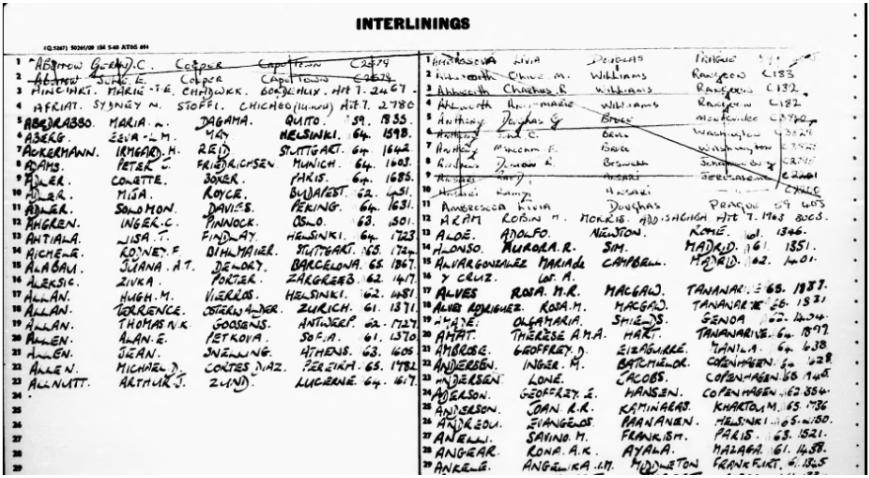 FREE
BRITISH OVERSEAS RECORDS
BRITISH OVERSEAS BIRTH INDEXES

Army Records and Service Departments

FREE

GRO ARMY BIRTH INDEXES 1881-1965

FREE

British Births AbroadFREE

GRO U.K. HIGH COMMISSION. BIRTH INDEXES (PRE 1956)

FREE

GRO U.K. HIGH COMMISSION. BIRTH INDEXES (UP TO AND INC. 1981)

FREE

GRO CONSULAR BIRTH INDEXES 1849-1965

FREE

GRO BIRTHS ABROAD INDEXES 1966-1994

FREE

GRO ARMY CHAPLAINS BIRTH INDEXES 1796-1880

FREE

Civil Aviation Authority Records for BirthsFREE

GRO AIR BIRTHS INDEXES 1947-1965

FREE

GRO IONIAN ISLANDS CHAPLAINS RETURNS. BIRTHS 1818-1864

FREE

GRO IONIAN ISLANDS CIVIL REG. BIRTHS 1818-1864

FREE

GRO IONIAN ISLANDS MILITARY REG. BIRTHS 1818-1864

FREE

Regimental Records

FREE

GRO REGIMENTAL BIRTH INDEXES 1761-1924

FREE

GRO REGIMENTAL BIRTH INDEXES SUP 1761-1924

FREE

Registry of Shipping and Seamen Birth FREE

GRO MARINE BIRTHS INDEXES 1837-1965

FREE

OTHER

FREE

GRO LIST OF ARMY REGISTERS

FREE
BRITISH OVERSEAS MARRIAGE INDEXES

Army Records and Service Departments

FREE

GRO INDEX ARMY MARRIAGES 1881-1955

FREE

GRO SERVICE DEPT. MARRIAGES 1956-1965

FREE

GRO ARMY MARRIAGES WITHIN BRIT. LINES 1914-1925

FREE

British Marriages Abroad

FREE

GRO U.K. HIGH COMMISSION. MARRIAGES 1950-1965

FREE

GRO MARRIAGES ABROAD 1966-1994

FREE

GRO CONSULAR MARRIAGES 1849-1965

FREE

Chaplains Records

FREE

GRO CHAPLAINS RETURNS MARRIAGES 1796-1880

FREE

The Ionian Islands

FREE

GRO IONIAN ISLANDS CHAPLAINS RETURNS. MARRIAGES 1818-1864

FREE

GRO IONIAN ISLANDS CIVIL REG. MARRIAGES 1818-1864

FREE

GRO IONIAN ISLANDS MILITARY REG. MARRIAGES 1818-1864

FREE

Article 7 Marriages

FREE

GRO IONIAN ISLANDS CHAPLAINS RETURNS. MARRIAGES 1818-1864

FREE

GRO IONIAN ISLANDS CIVIL REG. MARRIAGES 1818-1864

FREE

GRO IONIAN ISLANDS MILITARY REG. MARRIAGES 1818-1864

FREE

Article 7 Marriages

FREE

GRO ARTICLE 6 & ARTICLE 18 MARRIAGES (up to 1955)

FREE

GRO ARTICLE 6 & ARTICLE 18 MARRIAGES 1956-1965

FREE

OTHER

FREE

GRO LIST OF ARMY REGISTERS

FREE
BRITISH OVERSEAS DEATH INDEXES

Army Records and Service Departments

FREE

GRO ARMY DEATH INDEXES 1881-1955

FREE

GRO SERVICE DEPTS. DEATH INDEXES 1956-1965

FREE

British Deaths Abroad

FREE

GRO HIGH COMMISSION DEATH INDEXES 1956-1965

FREE

GRO HIGH COMMISSION DEATH INDEXES (UP TO 1955)

FREE

GRO CONSULAR DEATH INDEXES 1849-1965

FREE

GRO DEATHS ABROAD INDEXES 1966-1994

FREE

Chaplains Records

FREE

GRO ARMY CHAPLAINS DEATH INDEXES 1796-1880

FREE

Civil Aviation Authority Records for Births, Deaths or Missing persons

FREE

GRO AIR DEATHS INDEXES 1947-1965

FREE

GRO AIR DEATHS-MISSING PERSONS INDEXES 1947-1965

FREE

The Ionian Islands

FREE

GRO IONIAN ISLANDS CHAPLAINS RETURNS. DEATHS 1818-1864

FREE

GRO IONIAN ISLANDS MILITARY REG. DEATHS 1818-1864

FREE

The NATAL & SOUTH AFRICAN FORCES' DEATHS 1899-1902

BOER WAR FREE

GRO NATAL & SOUTH AFRICAN FORCES DEATHS 1899-1902

FREE

Registry of Shipping and Seamen Death

FREE

GRO MARINE DEATHS INDEXES 1855-1965

FREE

OTHER

FREE

GRO LIST OF ARMY REGISTERS

FREE
Ordering Civil Registration Certficates

Once you have found the record you are searching note down the details and order the certificate from the General Register Office.
How to order a certicate More info

Learn more about "Britons Abroad - A roaming nation"

These records are FREE to browse and view the images, simply login or register, go to the Search page and select the FREE tab