Ever wanted to keep important dates, birthdays, reunions and other events in one place. Familyrelatives' simple yet powerful Calendar allows you to get started in a few simple steps.
Click on Calendar in the Top Menu Bar and an easy to use wizard appears - then
1 Start by clicking on Create a New Calendar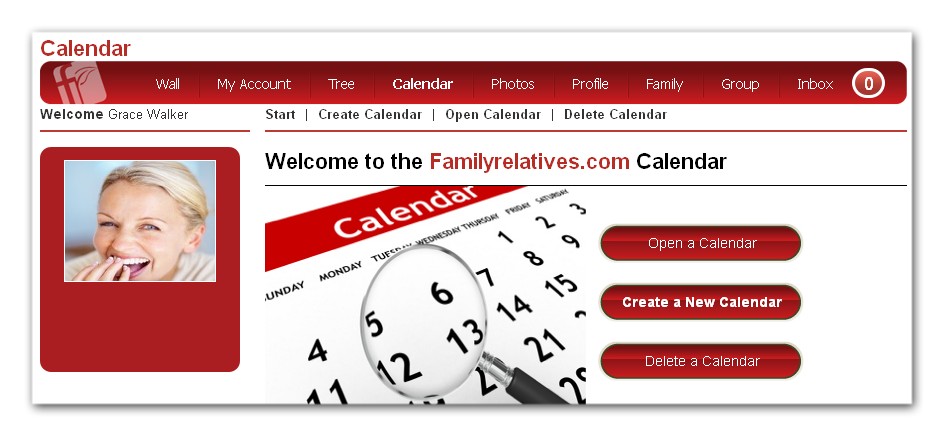 2. Enter a name for your calendar and who you want to share it with (you don't have to decide now - you can always change it). In this case we will create a calendar called Holiday and will share it with Family and Friends.
Then click Continue and that's it your Calendar is ready to use. Easy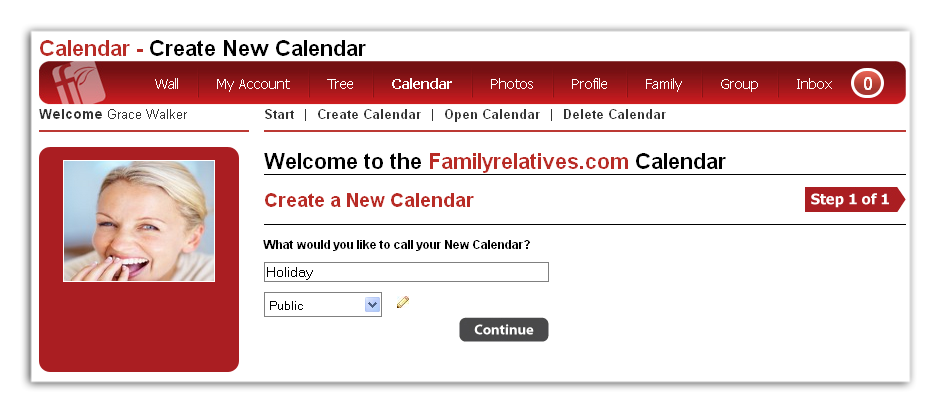 3. It opens in a Month view by default, which is a good way of seeing all your planned events in one place and at a glance.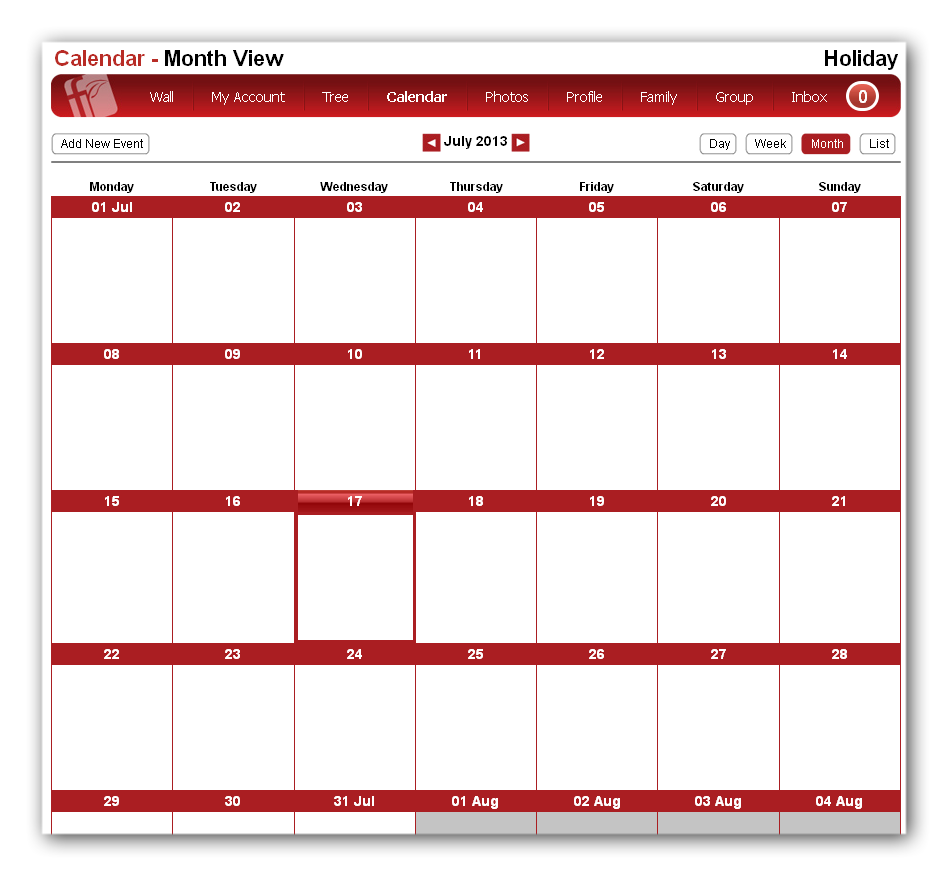 4. You can create an event in a number of ways
4.1 Click on Add New Event button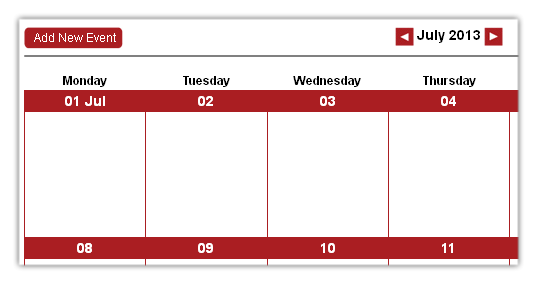 4.2 Click on the date
and both of these will open up a helpful pop-up that guides you through setting up an event.
5. Simply complete the Event details, which can include as much or as little information as you want. For example if you are having a Birthday party you can choose to include the place where you are going to meet as well as a link to a map.
6. You can also add a photo to make it a more fun when creating an event or add it afterwards
7. If you simply want to enter someone's Birthday no problem simply add the Title, what it is and when and in the repeats select Yearly and the number of years you want it to appear in your Calendar in this case we can add 10 years.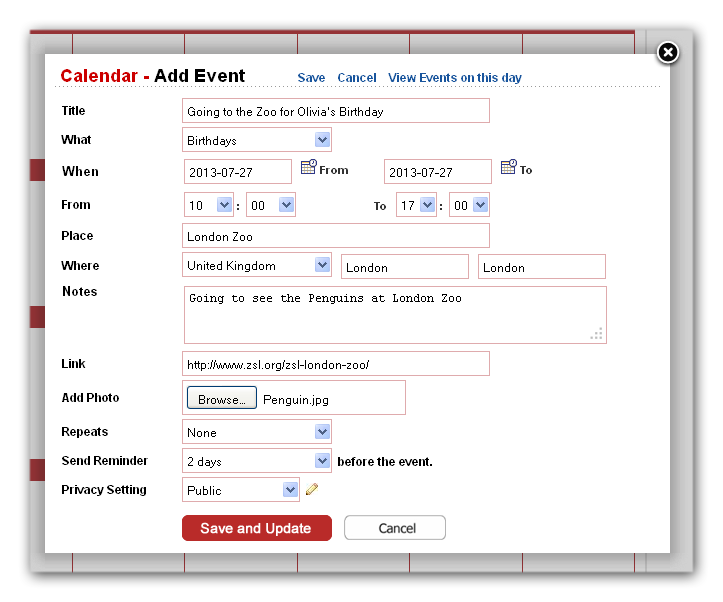 8. You are in charge throughout of who sees your calendar. For example you may have a Calendar that you share with Family and Friends but if you are organising a surprise Birthday Party you can choose to exclude Birthday Boy or Birthday Girl but only from that one event.

9. You can also set reminders so that you don't miss that all important date to 15 minutes before or weeks ahead or simply just a day ahead.
10. Once you are ready simply click Save and Update and you have created an event that shows as follows at which point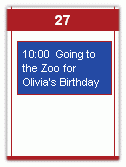 11. You can then click on the event and it appears as a snapshot in a pop-up.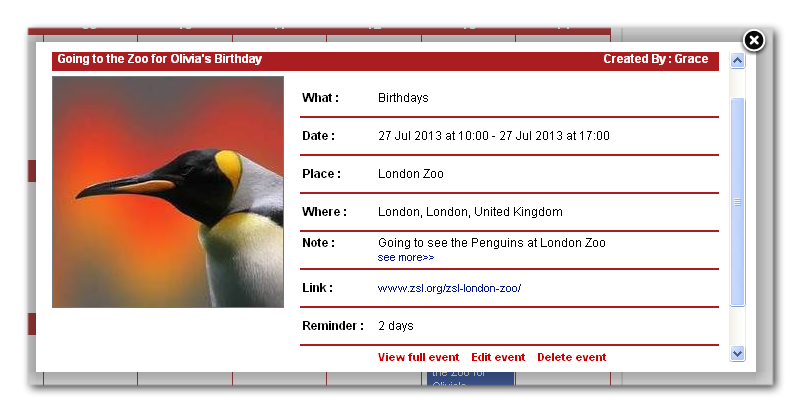 12. If you want to see the event in detail scroll down and select View Full Event and it appears in a neat, clear format.
13. If you make a mistake don't worry you can always go back and change anything you like or even delete it.
You can do this by click on the event and selecting edit from the pop-up
Calendar has great features including drag and drop.
Another simple way change an incorrect day or time is simply view the event in Day View or Weekly view and drag and drop the event to the correct date. Want to change the times – no problem, again drag to extend the time or drag and drop to a new time and calendar updates automatically.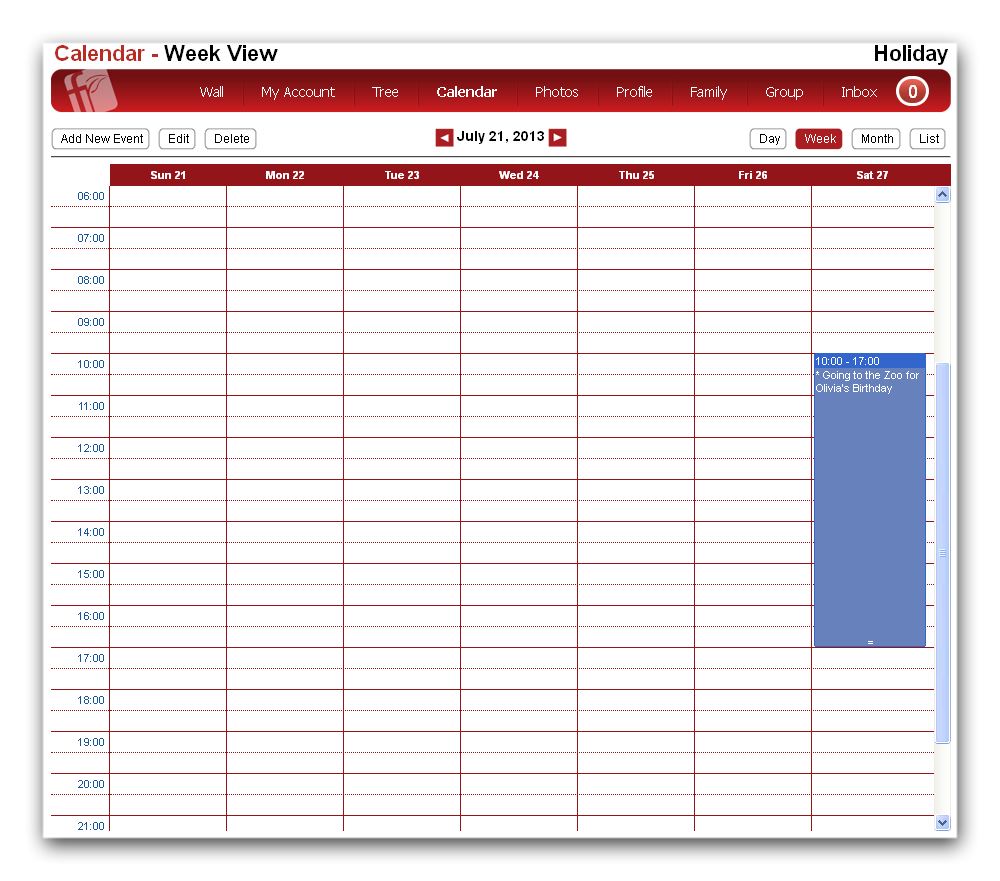 14. The great thing about the Calendar is its simplicity.
If you want to go from Month to month simply select Month view and click on the arrows either side of the Date: and the same applies to Day, Week or List (which is at a glance view of all events that are and have taken place) which takes you to the next year.

15. At the bottom of the Day, Week and Month view you want to Filter what you see by simply selecting or un-ticking one or more of the items you want or don't want to see and it automatically updates to show the items you want. It doesn't delete them it just doesn't show them until you are ready.

16. If you have chosen to share your calendar with your Family & Friends or other groups the calendar will appear in your Profile. Simply Click on Calendars and you can see the calendars that that person has shared with you.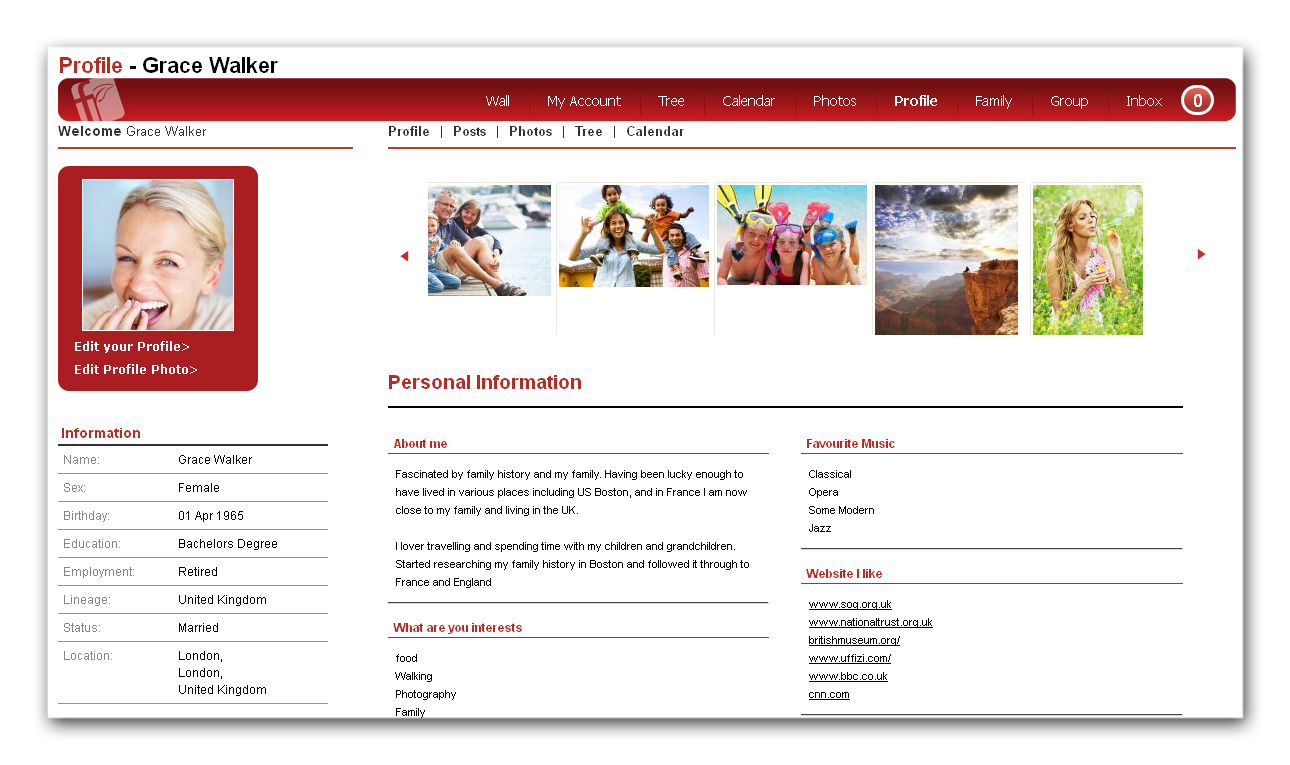 Below you can see that two calendars have been shared with you - Select the one you wish to view
The calendar appears - and shows those events that have been shared with you - here you can see an even on Saturday 27. Simply click on the event and it will appear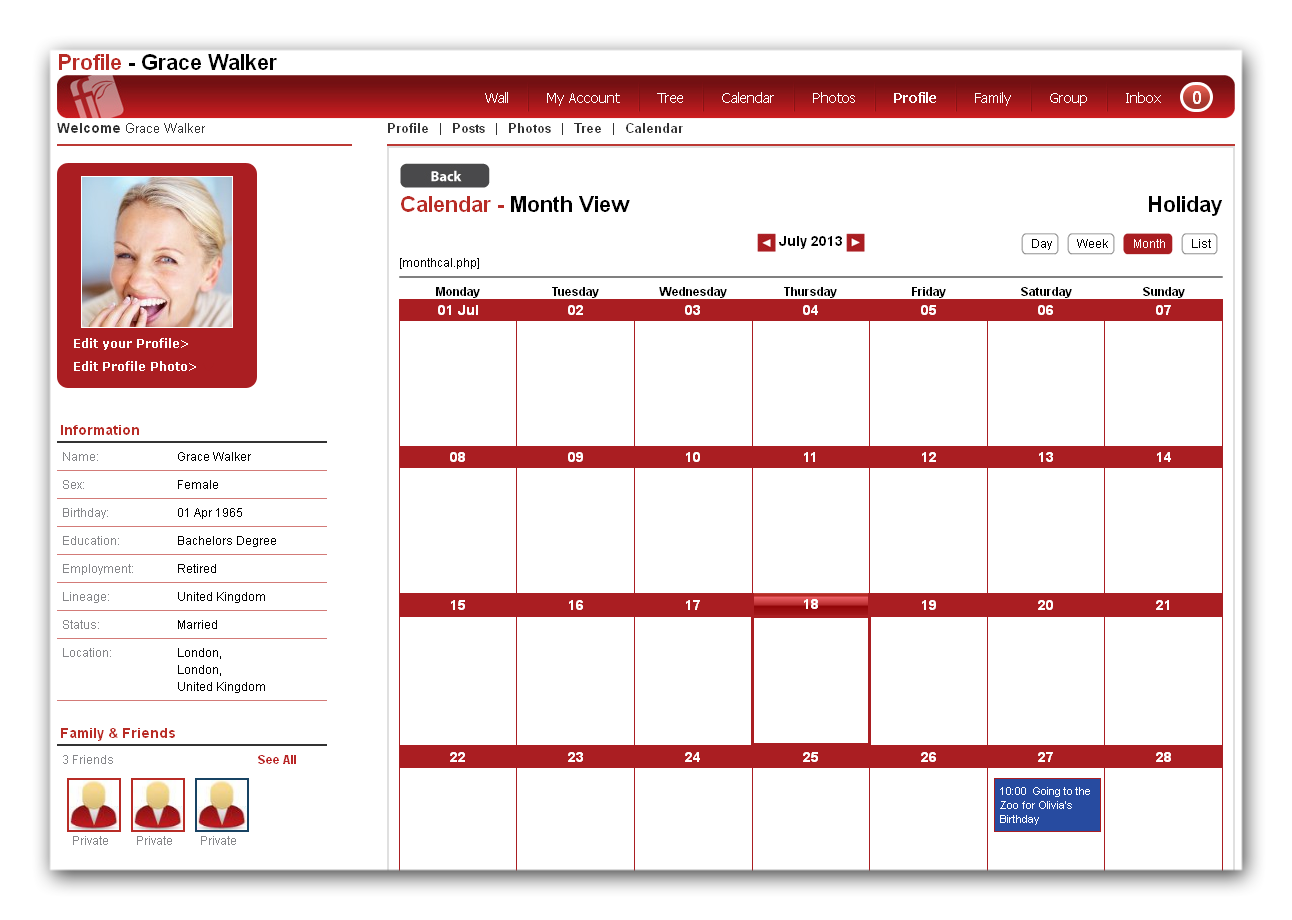 The event appears below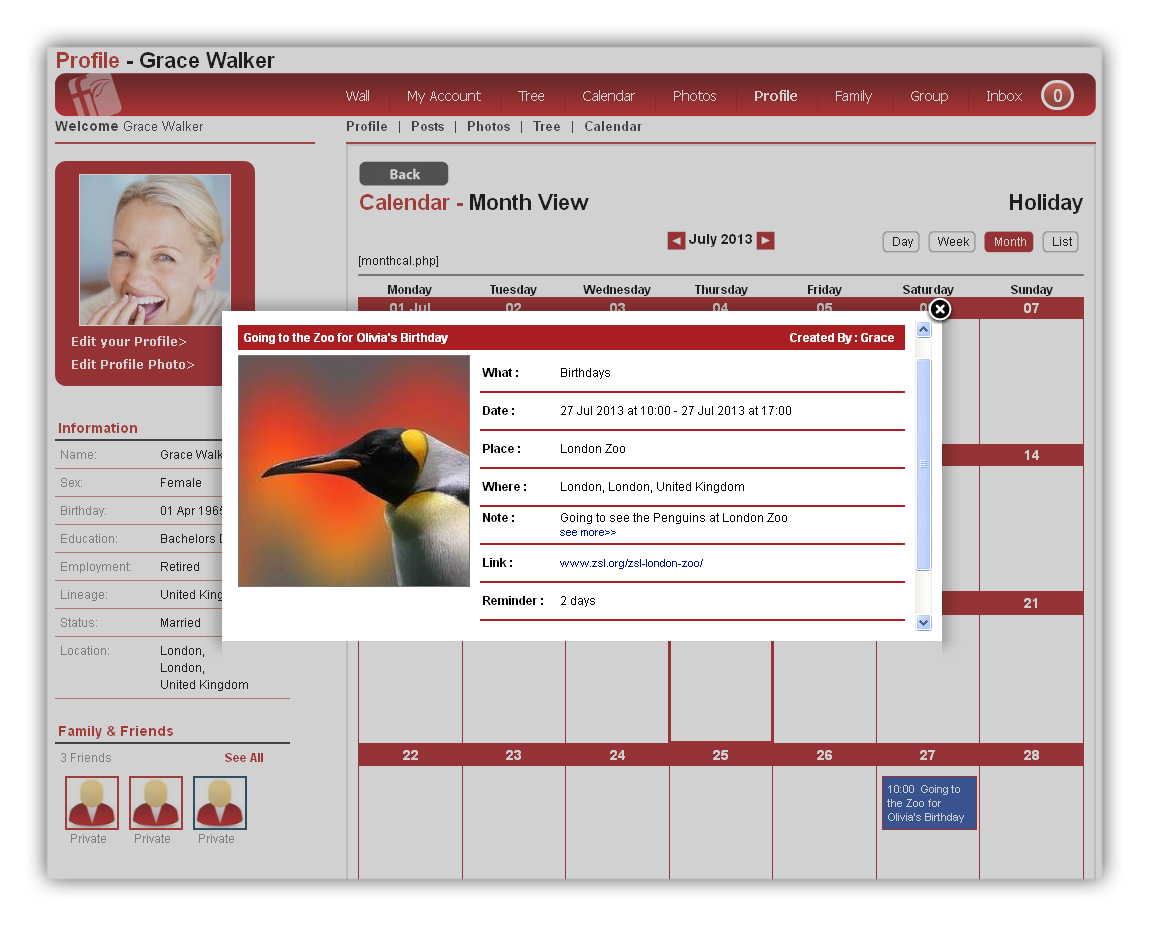 17. Finally you can alway go back and edit a calendar - whether you want to share it with more people or less people you can do that. You can choose to share the entire calendar or just a single event. To rename a calendar simply open calendar and select Edit then you will be able to not only change its name but also who you share the calendar with.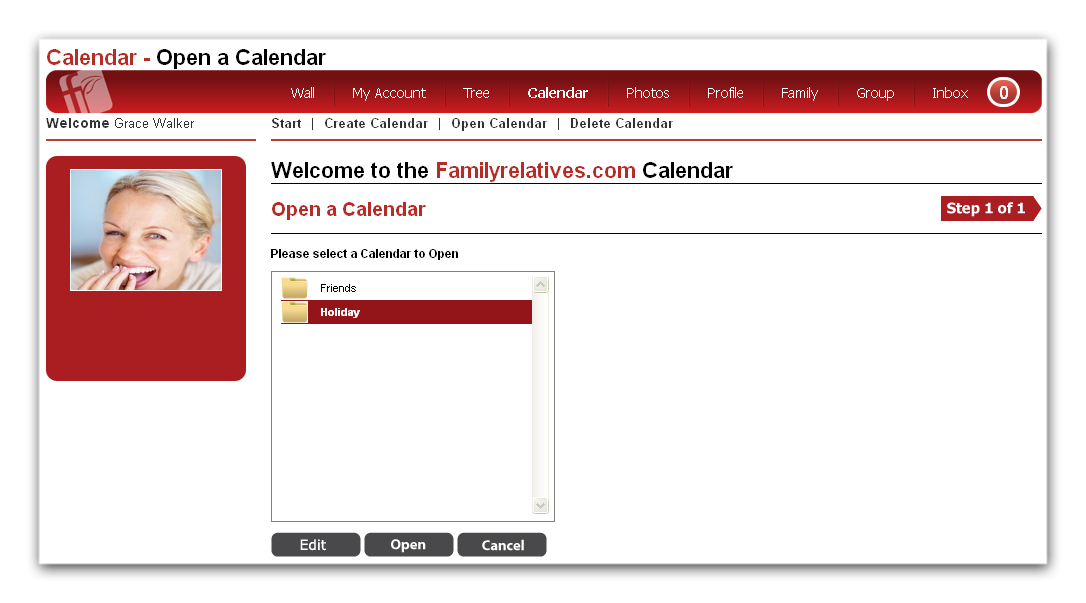 Enter the new name and click continue.

Should you wish to delete a calendar select Calendar from the menu, select the calendar you wish to delete and click Delete